Sustainable Home Centres launched
Daikin UK has announced the launch of two new Sustainable Home Centres, making its national network 30-strong.
A new centre has opened in Warminster in partnership with local renewable energy solutions provider, Ecobubl. And as the first of its kind in West Yorkshire, the Viva Training is now up and running in Halifax.
Amid growing demand for heat pumps – boosted by the now-open Boiler Upgrade Scheme and recent removal of VAT on heat pumps – homeowners throughout the country can use their local Daikin Sustainable Home Centre to familiarise themselves with air source heat pump technology and identify the best solution for their home, before being partnered with a trusted local installer.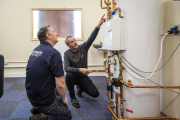 Iain Bevan, commercial manager – heating & renewables at Daikin UK, commented: "It's never been more important that homeowners who want to go green can access expert advice and guidance, helping them find the best solution for their household's heating and hot water needs. And the need for installers to train on sustainable technologies is paramount.
"Collaboration is key on the road to Net Zero, and our Sustainable Home Centres act as hubs where we all come together to drive progress. We're proud to be supporting the Viva Training and Ecobubl in opening these important new additions to our strong and successful network."
Richard Firth, MD of Viva Training – one of West Yorkshire's leading heating and installer training providers for the building services sector – added: "Partnering with Daikin means we're not only able to support homeowners and provide them with the best products in the market; we can also offer training to installers, create new job opportunities in the area and help make our national carbon reduction goals more achievable. We were incredibly pleased to welcome the Mayor of Halifax to our launch, helping us to kick-start our exciting next chapter."
Emilie Romain, operations director at total renewable energy solutions provider Ecobubl, commented: "We're proud to offer everything from heat pumps to EV chargers – and having Fully Charged's Robert Llewellyn with us to kickstart our new venture was brilliant.
"As a predominantly female team, we're proud to bring a fresh perspective to the renewable energy sector and we pride ourselves on tailoring bespoke solutions to suit any need, with great customer service at the heart of everything we do."